This past Friday evening we hosted a grand Red Tent of a launch party for Moon Mysteries! It was the most fun we have had all month and we came away wishing we could do it every full moon!
The weeks of planning meetings and shopping and preparing all for the final night that came together was like a dream, but not without the support we had our husbands, friends, and family helping every step of the way!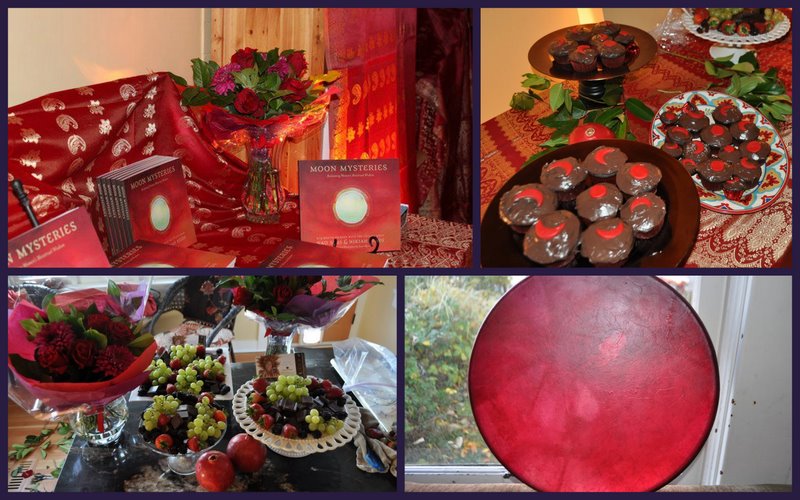 Now after a few days of quiet reflection, we have to say that this book launch was a very humbling experience for all of us. The number of women who came up to us sharing their stories and ideas for the book really blew us away! There was so much wisdom in the room that we were wishing that we had brought pads of paper with us to take notes of all the amazing places and things that women are taking and doing with Moon Mysteries!
The night was filled with speeches and laughter, music and singing. We sold and signed books, and raised money for a cause that is close to our hearts-The Pads4Girls program which sends  girls in Africa washable maxi pads so that they can go to school when they are on their moon time.
We were thrilled that pretty much every woman who was there bought at least one ticket and made our raffle huge success! We raised enough money to buy 10 Pads4Girls kits through Lunapads to send to Uganda with the Shanti Uganda Team!
Thank you to everyone who bought a ticket!

The final raffle Basket that we gave away was filled to the brim with wonderful goodies and we would like to take a moment to thank the businesses that helped our cause and by donating to the evenings fun!
A Big Thank you goes out to:
Surya Devi for the donation and addition her beautiful music and voice to our event!
The Granola Girl a local granola maker, for donating a big bag of her Granola and a funky t-shirt to our raffle basket.
Polosur Wine, for not only donating to our gift basket but also for giving us the amazing price on the evenings wine enjoyed by all.
Zazubean Organic Chocolate for donating several boxes of their Lunatic bars and all of the chocolate we had on our fruit platters.
Isabelle from Namasthe who came with a huge carafe and several boxes of tea so that those of us who were teetotalers could enjoy the evening with a hot beverage.
Ariel Canfield Pavic who donated a pot of organic Shea butter cream by Norwex for the raffle basket.
Lunapads for donating a $25 gift certificate to the raffle basket and for graciously allowing us to transform their work space into a red tent for the evening!
Shanti Uganda for donating a beautiful handmade shoulder bag to the raffle basket.
Jill at Mama Goddess Birth Shop Canada for donating a yummy beeswax candle to the raffle basket.
Honey Grove Farm for the large pot of their delicious honey to the raffle basket.
Red Moon Designs for the moon charm necklace.
All in all the night was a huge success!
If you are interested in helping us to support menstrual empowerment it is super simple! Look for us in your local book stores, and if we are not there ask them for it! This is a word of mouth movement ladies and  who better to get the movement going then you!

Lets make menstruation, something that half the world does, the norm in conversation, in book stores, and health food stores, and with our girls!